Our very first cider, according to Ed Wort's Apfelwein recipe, took awhile.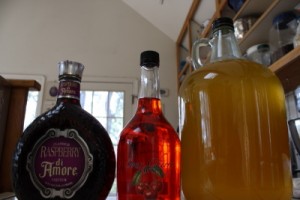 And when we (Bryce, Leo and myself) found ourselves lacking an airlock (the bobber on the one we were supposed to use was missing) it was decided to steal one from one of the four Carlo Rossi carboys downstairs. Besides, we figured, the Apfelwein was supposed to come out on Wednesday — taking it out on Monday wouldn't be that big of a deal.
So, we stole the airlock and resealed it with a normal cap.
And today, Bryce and I primed and bottled the first 1/5 of Cider #1.
That is to say, prime and bottle the first 1/5 of Fat Grey Tom's Blitzkrieg Apfelwein.
So, transferred it from the carboy to the bottling bucket, scooped up two glasses, primed it and tasted.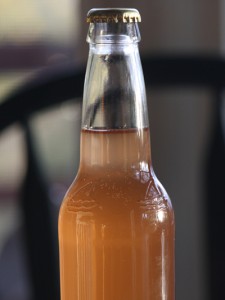 And man, did it kick. Going down, it gave us the same warm feeling one gets from a shot of schnapps.
With a bit of sugar, it tasted OK, with a very light cider taste. However, the brew is still young and unconditioned.
Have a homebrew . . . Except that we have no home brew left. Damn and blast!
Alas.
We will have homebrew, soon enough. I hope.
I sincerely hope.
This Cider Batch:
Cider: Batch 1
Cider Batch 1: Update
Tag: http://brew.wheelerc.org/tag/AW-batch-1/